Villager Stories
Click on a name to hear a story about life in the Cone mill villages.
Brenda Zeigler
waits at Dr. Sykes's drug store for the boys get out of Boy Scouts.
Brenda Zeigler and friends make too much noise in her backyard.
Don and Paul Dyson make the most out of their movie money.
Don and Paul Dyson place pennies on the train tracks.
Edith Slate remembers May Day activities.
Edith Slate remembers air raid tests.
Helen Thornbro goes dancing in the teenage club.
Helen Thornbro can't wait to start school.
Jerry Riddle remembers getting gifts from the Cones at Christmas.
Kenneth Brady and his friends loved to play baseball.
Larky Johnson's dad makes a go-cart for her and a neighbor girl.
Larky Johnson's grandpa decorates for Christmas.
Leroy Paris remembers when the mill whistle blew at the wrong time.
Powered by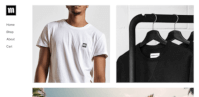 Create your own unique website with customizable templates.